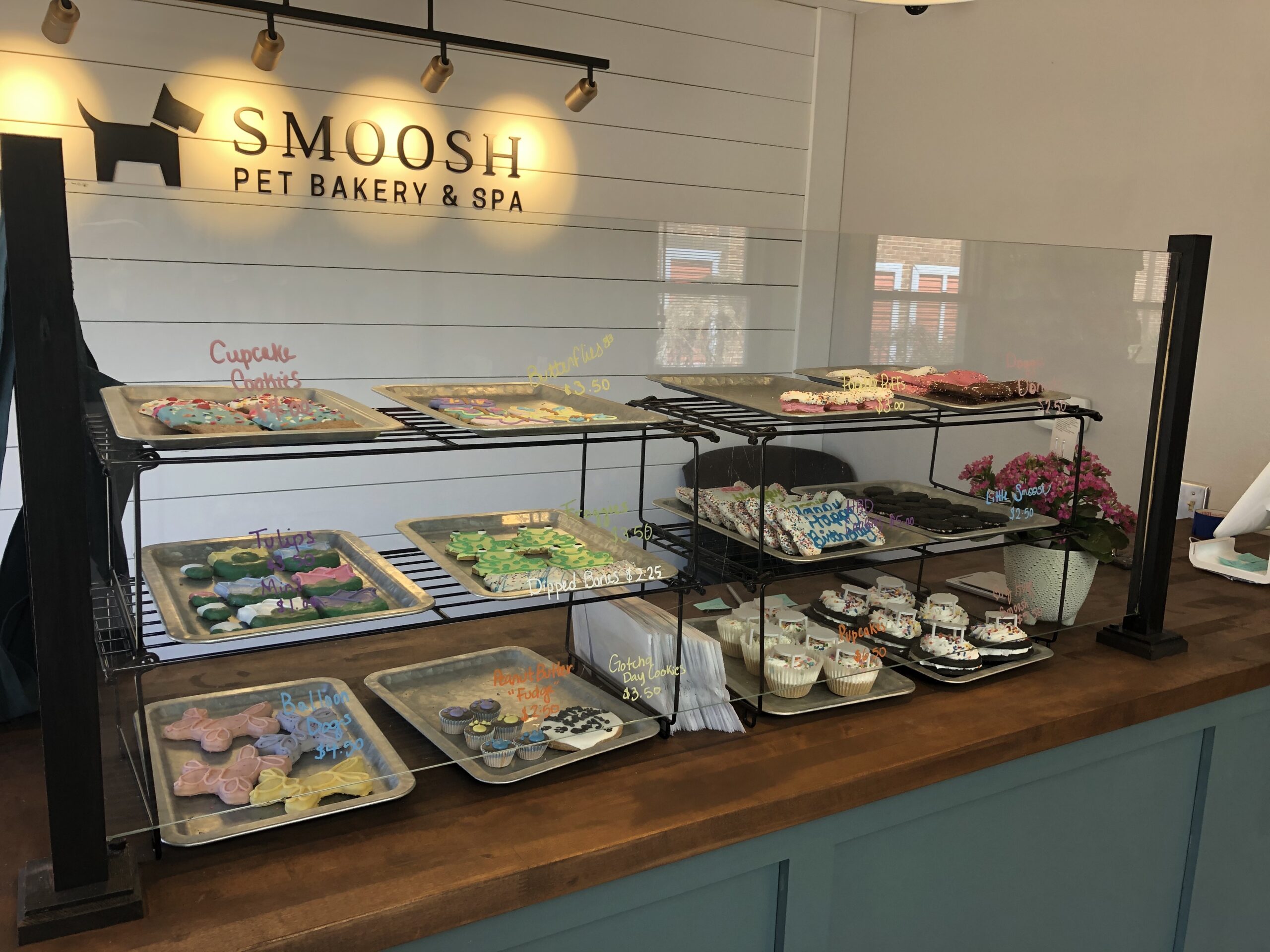 Tails Will Wag at Smoosh Pet Bakery & Spa
Tails Will Wag at Smoosh Pet Bakery & Spa
There's a new business in Knoxville that is going to make your pet's tail wag with excitement. Smoosh Pet Bakery & Spa, owned by Amber Staton, has everything you need to take care of your four-legged family members.
Amber and her husband, Adam, love to spoil their 80-pound Bernese Mountain Dog, Frankie. However, all that spoiling required trips out of town to get Frankie the treats she deserved. The Statons thought other pet owners were having similar experiences. After visiting several pet bakeries, they decided it was time to take a leap and bring one to Knoxville.
"I've always been a people person and have always been involved with selling, so opening something like this was a natural fit for me," Amber said about opening Smoosh Pet Bakery & Spa.
Smoosh Pet Bakery & Spa opened at the beginning of April. Since its opening, Amber has been able to double Smoosh's inventory, which was a goal she made for her first year of business.
"We've been able to reinvest back in, and that's been pretty awesome," Amber says. "I'm very passionate about making sure dogs are safe and are getting the proper care they need. It's been fun to help people do that."
Smoosh Pet Bakery & Spa offers several different types of products that pets will love. The bakery case, which features decorated treats that look good enough for people to eat, is perfect for a special occasion like a pet's birthday. The treat bar has various dog treats available to buy in bulk and mix-and-match, with many of the treats made locally in Iowa. The chew bar, which is Smoosh's most recent addition, includes unique items that are difficult to find anywhere else, such as slow roasted bones, beef bladders, gullets, and more.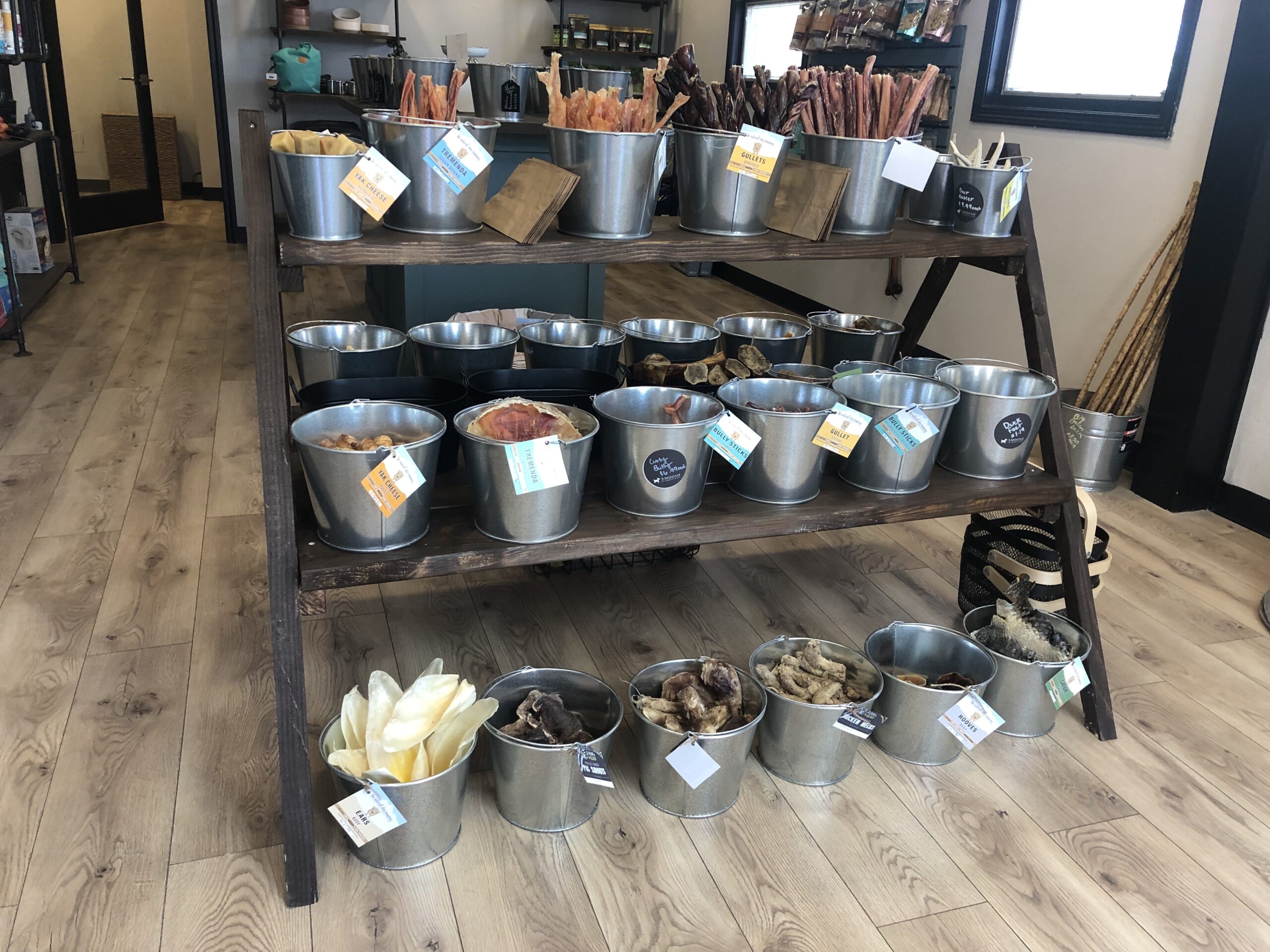 Smoosh also carries pet toys and supplies, including collars and harnesses. Customers are always encouraged to bring their pets along to visit Smoosh, but especially when shopping for collars and harnesses.
"I always recommend bringing in your dog," Ambers says. "We can fit them to the right harness that's going to make it safer and more effective for the owner, instead of just trying to guess."
The Smoosh Spa is also available for pets who are needing a bath, and owners who don't want to worry about the mess at home. The self-wash stations are available for walk-ins, but appointments are recommended, especially in the hot summer months when pets tend to shed more heavily.
As Amber continues on her journey as a business owner in Knoxville, she's looking forward to several things. Within the next few weeks, Amber will be fully certified to make her own bakery items to sell at Smoosh. Keep an eye on the bakery case, because homemade treats will make an appearance soon!
Amber is also excited to partner with various community organizations. She wants Smoosh to be a mission based business, and hopes to partner with the Marion County Humane Society and other organizations that support animal causes.
Smoosh Pet Bakery & Spa is open Monday-Thursday from 12-6 p.m., Friday from 10 a.m.-6 p.m., and Saturday from 9 a.m.-3 p.m. Pets are welcomed and encouraged to shop with their owners. To make an appointment for the Smoosh Spa, call 641-828-6163. Smoosh Pet Bakery & Spa is located at 112 N. 2nd St. in Knoxville.